Returning post-COVID, photo of part of the group, October 2021. From left to right: Mihaela Marinescu, Alan Watson, Ioannis Manthos, Julia Silva, Kostas Nikolopoulos, Paul Newman, John Wilson, Patrick Knights, Tobias Fitschen, Orlando Villalobos-Baille, Will George, Ioannis Kopsalis, John Dowell, Rob Ward, Alasdair Winter, Andy Chilsholm, Tom Bache, Niladri Sahoo, Miriam Watson, Josh Lomas, Angela Romano, Nigel Watson, Jack Matthews, Jacob Kempster, Dave Charlton, Stephen Maple, Francesco Gonnella, Laura Gonella, Adam Tomczak, Chris Hawkes, Jonathan Hancock, Joeal Subash, Evgueni Goudzovski
Group photo from 2019. From left to right: Paul Newman, Nandish Gorasia, Gov Virdee, Daniel Lewis, Kostas Nikolopoulos, Russell Turner, Jon Plews, Rhys Owen, Rob Ward, Patrick Knights, Andy Chisholm, Hakan Wennlof, Simon Pyatt, Tom Bache, Julia Silva, Juergen Thomas, Rob Vallance, Steve Hillier, Alexis Stampekis, Elliot Reynolds, Juraj Bracinik, Tom Neep, Chris Hawkes, Miriam Watson, Gron Jones, Alan Watson, Dave Charlton, Ian Kenyon, Simone Bifani, Nigel Watson, Evgueni Goudzovski, Cristina Lazzeroni, Phil Ilten, Nicolas Lurkin, Tonino Sergi, Pete Watkins, Francesco Gonnella, Jack Lindon, Ioannis Katsioulas, James Glover, James Kendrick, Joel Swallow, Alisdair Winter, Harry Cooke, Ioannis Kopsalis, Mystery Photobomber, Gareth Bird, Paul Swallow, Mark Slater, Jack Henshaw
Group photo from 2017. From left to right: Paul Newman, Partick Webb, Nandish Gorasia, Ryan Calladine, Govind Vidree, Alisdair Winter, James Broughton, Tim Willliams, Robbie Bosley, Hakan Wennlof, Rob Vallance, Russell Turner, Daniel Lewis, Andy Foster, Andy Sturgess, Jon Plews, Rhys Owen, Paul Thompson, Nikolas Lurkin, Joel Swallow, Jacob Kempster, John Wilson, Laura Gonella, Alan Watson, Nigel Watson, John Cotterill, Lorenza Iacobuzio, Steve Worm, Sam Flynn, Francesco Gonnella, Evgueni Goudzovski, Phil Allport, Simon Bifani, Slava Duk, Kostas Nikolopoulos, Richard Staley, Miriam Watson, Pete Watkins, Steve Hillier, Juraj Bracinik, Chris Hawkes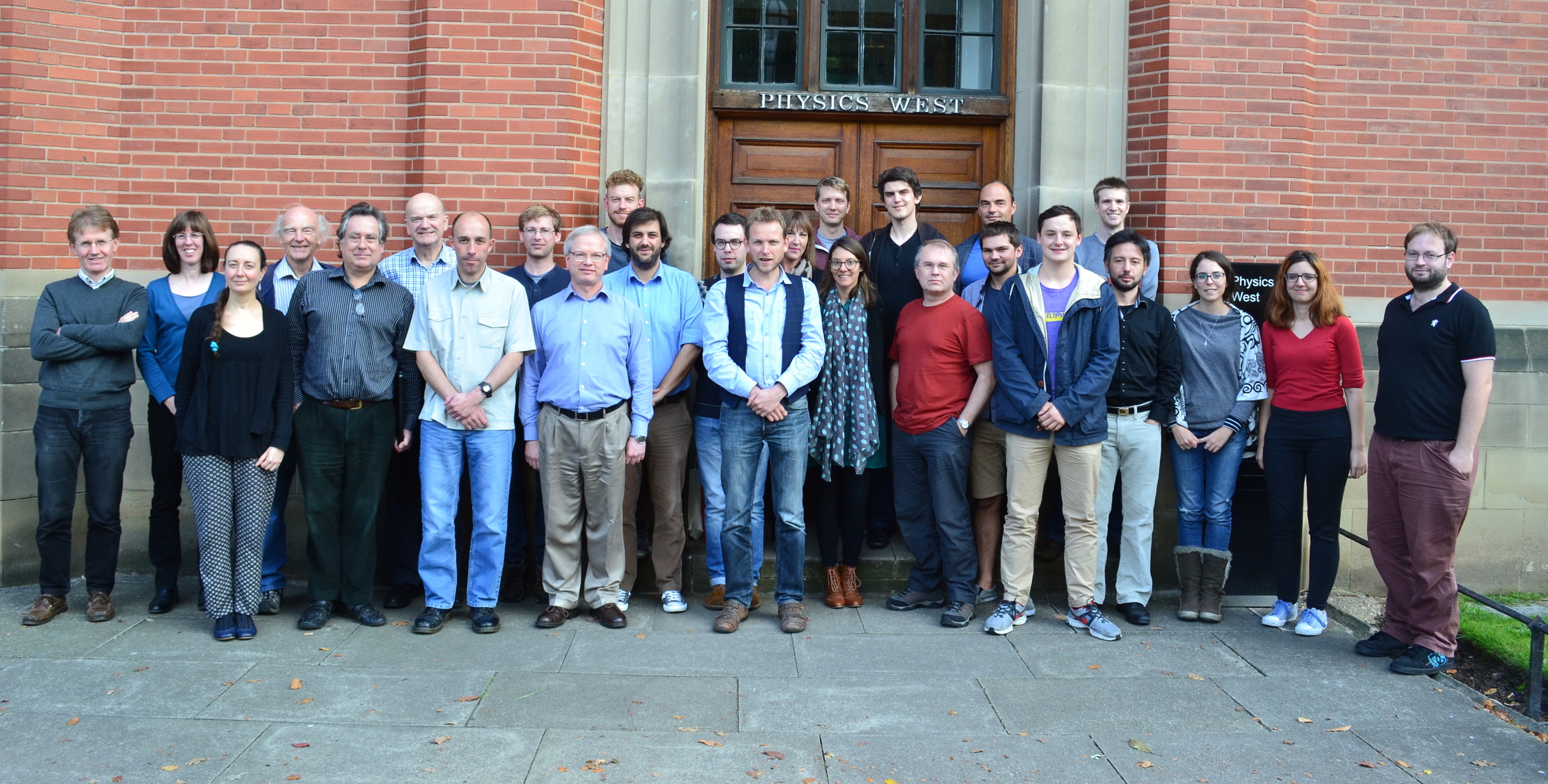 Group photo from 2015. From left to right: Nigel Watson, Miriam Watson, Cristina Lazzeroni, Pete Watkins, Phil Allport, John Wilson, Simon Pyatt, Simon Head, Chris Hawkes, Paul Thompson, Kostas Nikolopoulos, Andy Chisholm, Paul Newman, Maria Hobbs, Matt Williams, Ludovica Aperio Bella, Mark Levy, Alan Watson, Evgueni Goudzovski, Daniel Briglin, Andy Foster, Francis Newson, Tonino Sergi, Valentina Fascianelli, Maria Brigida Brunetti, Tim Williams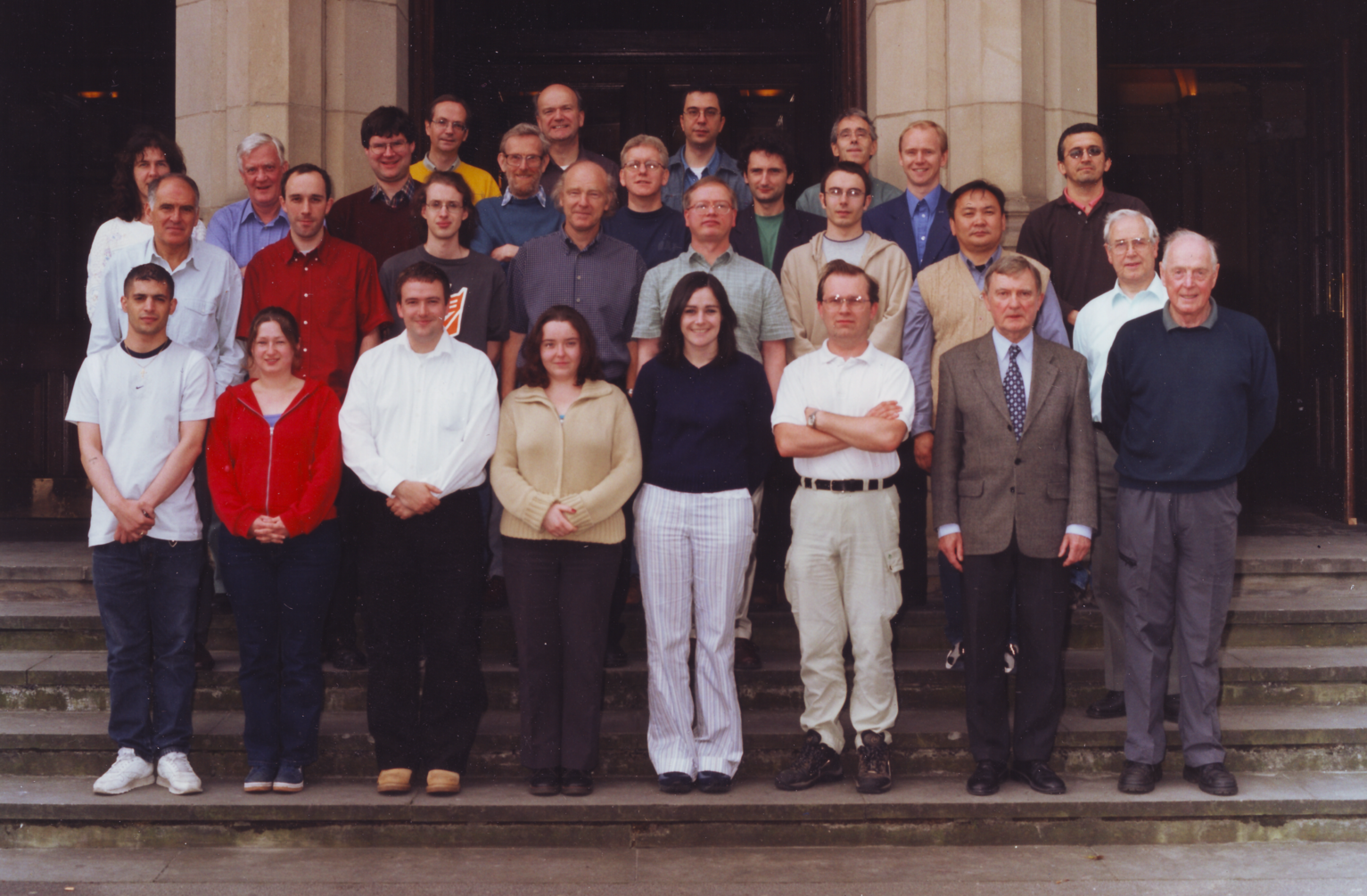 2002. From left to right: Front Row Xenakis Serghi, Carrie Johnson, Paul Norman, Sian Morgan, Kelly Ford, Alan Watson, John Dowell, Derek Colley Next row Pedja Jovanovic, Simon Pyatt, Oliver Henshaw, Peter Watkins, Chris Hawkes, Paul Bell, Khurelbaatar Begzsuren, Roger Harris, Next row Teresa Harrison(nee Champion), John Kinson, Dave Charlton, Ian Kenyon, Richard Staley, Gilles Mahout, David Evans, Roman Lietava Back row Pete Faulkner, John Wilson, Georgios Anagnostou, Lawrie Lowe
Bubble chamber group, mid 1980s. From left to right: Back row Roger Jones, Dave Clifford, Ralph Kings, Pete Faulkner, Brian Hughes, Kevin Varvell, Sue McInnerrey , Gron Jones. Front row Sharon Mitchell (nee Scantlebury) , Beryl McLeod, Sheila Parker, Jill Lee, Kathy Weaver, Sheila Cox, Linda Walton, Bobbie Cook, Carolyn Evans, Sudarshan Meelu
1981: From left to right: Front row Margaret Baggott, Beryl McLeod, Sharon Mitchell (nee Scantlebury), Maureen Taylor, Mangala Phadke, Darshan Bhumbla, Sudarshan Meelu, Sheila Parker, Betty Dickinson, Carol McCallan. Next row ?, Orlando Villalobos-Baillie, Ralph Kings, Steve O'Neale, Colin Wilkin, Derek Colley, Brian Hughes, Jaz Patel, Chris Kings, Dave Colley, Elena Votruba Next row Lawrie Lowe, Simon Pomeroy, Mike Edwards, Pedja Jovanovic, Frank Votruba, Roger Harris, Frank MacDonald, Dave Clifford, Pete Faulkner, Glenn Cox, Gron Jones, Pete Watkins
Early 1980s: From left to right: Front kneeling Lawrie Lowe, Ratso Belusevic, ? Steve O'Neale, Sushma, Glyn Schantz , Sharon Mitchell (nee Scantlebury) , Steve Sewell , Darshan Bhumbla, Simon Pomeroy, Sheila Cox, Gron Jones, Carolyn Evans , ?, Dave Clifford, Sudarshan Meelu, Pete Faulkner, ?, Ernie Isherwood, ? , Pedja Jovanovic. Standing ?, ?, Roger Harris, Glenn Cox, Ian Bloodworth, John Kinson, Derek Colley, Ralph Kings, Frank Votruba, Pete Watkins, Noel Carney,Frank MacDonald, Brian Hughes, Bill Stokes, Dave Colley, ?, Tom Joyce, ? .
Circa 1977. Back row: Alena Votruba, Ralph Kings, Jeff Hughes, Frank MacDonald, Steve O'Neale, Mel Jobes, Derek Colley, David Humphries, Dave Clifford, Pete Faulkner, Frank Votruba, Steve McCallan, John Kinson, Brian Hughes, Beryl McCleod. Centre section: Jeremy Shiers (PG), Martin Corden, Noel Carney, Carl Cowan (PG). Sitting: Joyce, Sushma, six unidentified scanners, Carolyn Evans, Denise Bayliss, Sheila Cox, Marian Shipway.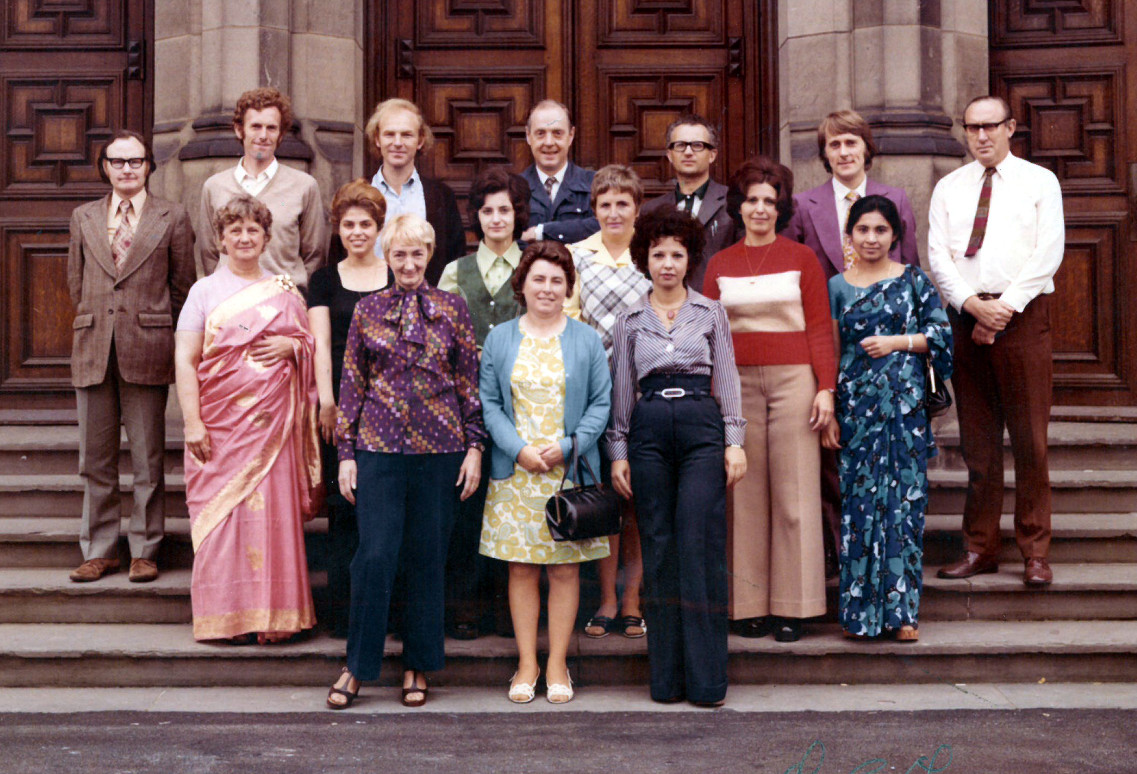 Early 1970s. From left to right: Back row Ralph Kings, Ian Kenyon, Pete Watkins, Derek Colley, Frank Votruba, Geoff Hughes, Len Riddiford. Middle row ?, ?, ?, Alena Votruba, ?, ?. Front row Sheila Cox, Joyce, ?.
Early 1970s. Name-tags pending